Diet Plans for Children in Delhi
Diet Plans for Children in Delhi, Diet Chart for Children in Delhi, Children Diet Counseling in Delhi, Dietitian for Children in Delhi.
A Regular balanced diet for children is required to supply the nutrients and energy needed for the growing child. Many experts have researched and found that the Healthy Diet for Children can help and protect your children from being obese. Obesity is sharply increasing because of the increasing popularity of fast foods all over the world.

While finding a Well Balanced Diet for Children is not really hard, a parent should keep in mind that what works for adults might not work for children. Generally, Kids are often much more active than any adult people and since children are growing, they should eat foods that are highly nutritious. Teach children to choose the correct food groups are very important because kids are developing lifelong eating habits when they are young. If children learn how to eat foods correctly when they are young, they are twice as likely to eat healthy as they become adults.

If your children love eating fried chicken, Instead of 100% serve their needs. You should consider removing the skin and boiling the chicken so that the fats and oil will be eliminated. To make the chicken isn't bland; you serve the chicken with gravy and mashed potatoes, tomatoes. In fact, the tastier it is, the more the children will enjoy eating it.
The health of a child mainly depends on the kind of food taken. Normal growth of child requires nutritious and energy giving food. Children have smaller appetites as compared to adults and hence they need 5 to 6 meals in a day. It is very necessary that these 5 to 6 meals are balanced and healthy meals so that the need of the body is fulfilled.
The children could be lacking in vitamins A, C, and D if they do not consume the proper quantities of nutritional foods. These foods contain essential minerals and vitamins that are necessary for children's growth. These minerals and vitamins are used for bodily processes that occur in the blood, skeletal structure, and brain.

Below are the leading tips to get Children to eat healthy and balanced food: 
Never Prohibit Diet 
Keep healthy and balanced foods - Children will eat what's quickly obtainable. Always keep fruits in a bowl on the counter, not buried inside crisper portion within your fridge. Take into account, your youngster can only select healthy foods which you supply in the property, by reducing unhealthy food stuff you actually will, by default, coach your child the way in which to consider much healthier foodstuffs.

Comment Healthy Choices - Offer your young people a proud smile and even indicate to him or her how wise they can be anytime they decide upon balanced foodstuffs. Kids succeed on favorable encouragement!
Organize Dishes in Your Kitchen - There you are able to decide to put healthier helpings of each and every item on everyone's dinner plate. Your youngsters will learn to recognize suitable portion sizes. Too frequently people go for seconds and even thirds simply because the food is right there. If there isn't any extra food in view you could possibly realize that they will need much less food to feel full!.

Give the children some control - Ask your youngsters to take three bites of all the food on their plate and give it a grade, such as A, B, C, D, or F. Whenever nutritious foodstuff - particularly certain greens -- get high marks, serve them even more often. Offer the products your young children don't like less often. This lets your small children participate in decision making. After all, dinner is a family affair!

Consult Your Family Doctor - Always discuss with your daughter or son's health practitioner before placing your boy or girl on a Loss Weight plan, seeking to help your child gain weight, or making any major variations in the type of foodstuff your child eats. Do not ever diagnose your youngster as too heavy, or too skinny, by yourself. If weight change is proposed look for the help of a Dietician.

Fruits and Vegetables - are rich in vitamins and minerals. Including fruits and vegetables in food intake of children can fulfill their requirement of vitamins and minerals. Children should eat as many fruits as they can. The habit of taking fruits and vegetables as snacks also helps children in avoiding junk food. Green leafy vegetables like spinach, cabbage etc. and fruits like banana are a rich source of iron. Iron intake in food is essential to increase blood in the body. It forms part of hemoglobin. It helps in strengthening the immune system of the body of a child.

Calories Diet - Children need more calories as compared to adults since they are physically more active. Calories should be taken from different foods. Fried, fatty items, and sweets should be limited in food intake of children. Whole grains and enriched cereals in a diet of children provide good calories.

Carbohydrates - Wheat, rice, maize, and bread provide carbohydrates. Carbohydrates provide energy and help in storage and transport of energy. It improves the immune system of the body. In different stages of development of a body of a child, carbohydrates provide the required energy. It should constitute a major portion of healthy food for children.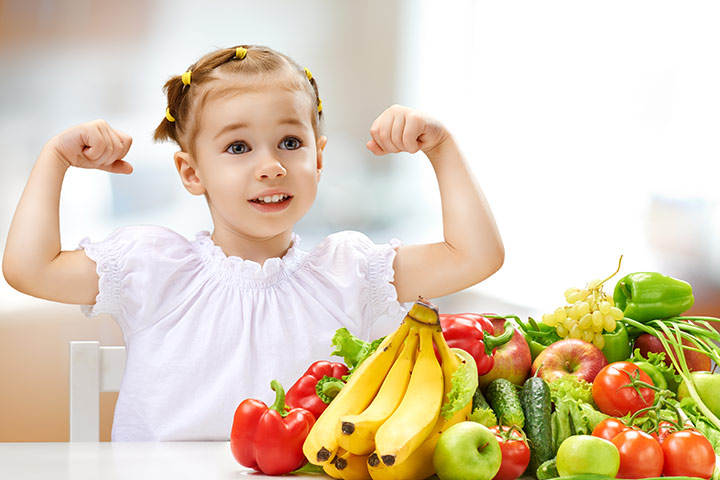 ---
Consult Dietitian Online
Need not to Visit Clinic Anymore, Get Diet Plan Online via WhatsApp or Calls